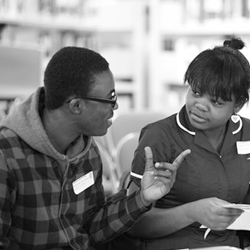 You'll lead or supervise a team of care workers to ensure they provide high quality care and support.
Team leaders or supervisors can work in care homes or can coordinate domiciliary carers in the community.
Your role might include:
managing and supporting workers so they can perform their roles safely and to the best of their ability
supporting your manager to run your workplace according to standards and legislation
acting as a positive role model to colleagues
developing care plans that outline what care and support individuals need
leading team meetings and doing inductions, supervisions and appraisals
working in partnership with other professionals to ensure individuals get the support they need.
What skills do I need?
Everyone working in social care needs English, number, digital and employability skills including team work and problem solving skills. What core skills do I need to work in social care outlines some of the skills you need and has short activities to help you think about transferable skills from your previous experiences.
There are also some specific skills needed to work in this role. These include:
supervisory and team leading skills
the ability to deal with conflict
good English skills to understand and apply policies and procedures in practice.


What experience and qualifications do I need?
You usually need to have some experience of working in social care and health to get a job as a team leader or supervisor. Depending on where you work and the level of your role, you might need a nursing qualification, for example if you work in a nursing home or hospice.
It's also really important that you have the right values and behaviours to work in social care, as you'll be responsible for managing a team and leading by example.
Your employer might ask that you have qualifications showing good English and number skills such as GCSE A-C in English and maths. It might also be helpful to have a social care qualification such as a Level 2 or 3 Diploma in Health and Social Care.
How do I get started?
If you're interested in working as a senior care worker, there's lots of advice about finding a role on the Starting your career page. You could look online or in your local newspaper to find vacancies, or you might want to contact local care providers to ask them directly.
You could also apply for an apprenticeship which means you'll gain supervisory experience, gain a qualification and earn a wage. This is a great route into a senior care worker role; you could speak to your employer about opportunities or find vacancies on the Thinking about doing an apprenticeship page.
If you're currently working in social care, speak to your employer about opportunities to progress into senior care worker roles.
If you're a graduate you could apply for the social care Graduate Management Programme.
How can I progress?
When you start in your role you should do an induction which includes training necessary for your role such as health and safety, administrating medication, first aid and leadership skills.
When in your role you could do a vocational qualification such as a Level 2 or 3 Diploma in Health and Social Care, or continuing professional development qualification or training.
Skills for Care recommends that employers provide opportunities for you to undertake some management duties, training of staff and other ways to build on your existing skills.
You might want to progress into a further management role for which a level 3, 4 or 5 qualification would be useful. There are also short development programmes such as 'Lead to succeed' that can help you.
You might also choose to specialise in one particular area of care such as end of life or autism care, and you could become a trainer or assessor in that area. Read more on the Job roles in social care page.